"We are very proud of our students for their effort and dedication," said Academies of West Memphis Vex Robotics Team Teacher Dewanda Kirkland.
AWM's Vex Robotics Team received the Judges' Award at the Hurricane Spin Up League, which is hosted by Jonesboro High School. This award is given to teams that exhibit exemplary effort and perseverance throughout the competition season and tournament.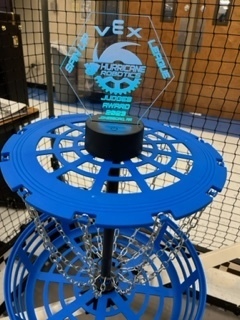 Twenty Vex Robotics Teams from 5 different schools meet for qualification matches over 3 dates during the course of the school year. Yesterday, AWM was ranked 5th going into the tournament round.
"Teams are interviewed, engineering notebooks are scored, skills are tested, and the final bracket is set for elimination," remarked Kirkland.
After this process, the Judges' Award is presented to the team that is "most deserving of special recognition."
Kirkland not only commended the entire team, but also the efforts of two rookie robotics students. "William Tennison and Caleb Free impressed the judges with their growth and ability to describe the engineering design process, the numerous robot iterations, gear ratios, and team dynamics," said Kirkland.
Up next for the team is Gosnell's Pirate Melee League. AWM is ranked 2nd place going into the final date, which is February 16.
"The team is working hard to correct errors, improve designs, and finalize autonomous programming," explained Kirkland.
Congratulations and best of luck to AWM Robotics!